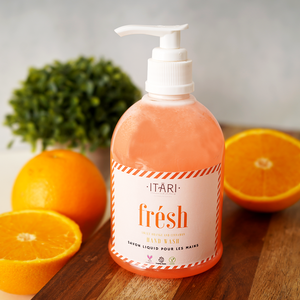 Description
A new, super-smooth hand wash that creates gentle foam while disinfecting hands from harmful germs and bacteria.
Ingredients:
Aqua, sodium cocoyl glycinate, isethionate (derived from coconut and soya oils).
Sweet Orange Essential oil from fields of Nagpur and Cinnamon Essential oil from spice farms of Kerala.
Our 100% natural, Sulfate-free, parabens free hand wash keeps hands deeply moisturized and fragrant.
How To Use
Pump once or twice on wet hands, rub together to create a lather, and rinse with water.
Store in a cool dry place.
For external use only.
KEY INDREGEINTS
Good
Smells very herbal, spicy and sweet at the same time. Such a unique combo of orange and cinnamon. Love it!
Orangy blossom🧡
Love it! The best from Itari's handwash collection for me. Starts with freshness and orange zestyness that never goes away. The cinnamon here is very smooth and the sweetness mild.
Must buy
smells like cinnamon & orange candy.. 😇
Good
A really nice spicy handwash.this smells like cinnamon and pepper. Overall the handwash is pretty nice.
My favourite handwash!
This smells something like Christmas cookies with lots of cinnamon and some oranges mixed with mulled wine and honey.. i'm using this for a month now.smells so yummy! 😇