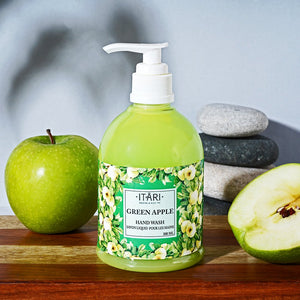 Description
A new, super-smooth hand wash that creates gentle foam while disinfecting hands from harmful germs and bacteria.
Ingredients
Aqua, sodium cocoyl glycinate, isethionate (derived from coconut and soya oils).
Itari's Original and Proprietary Green Apple Essential Oil.
Our 100% natural , sulphate free, parabens free hand wash keeps hands deeply moisturized and fragrant.
How To Use
Pump once or twice on wet hands, rub together to create lather and rinse with water.
Store in a cool dry place.
For external use only.
KEY INDREGEINTS
Amazing
Very nice. I'm using it for a month now. It's a Luxury handwash at a minimal price. I would absolutely recommend it to everyone.
Gorgeous😍
Love this 💗Smells so fruity! Love the color and it's so soft.. has a moisturizer too..
Luxurious handwash ✨
Love the soft texture and pleasant aroma 💚 Fragrance stays even after washing your hands.. my kid is really happy using it.. thank you itari for such amazing products!